Have you been searching for the best cinema deals for the up and coming hotly anticipated release of Mamma Mia! Here We Go Again? Well, look no further as Signature Living has a deal that'll have you shouting Gimme! Gimme! Gimme!
On the official night of the sequel movie release, 30 James Street will be pulling out all the stops to give Mamma Mia movie fans the most unforgettable movie experience of a lifetime.
Here We Go Again!
This time around the original Mamma Mia movie cast is back along with some welcome additions; their past selves.
That's right we get to see Donna and the Dynamo's in their prime
and all three Dads as they were when they dot-dot-dotted Donna.
Not to mention a superstar guest appearance by none other than Cher herself, playing the ultra-glam grandmother of Sophie.
There'll be plenty more magical music to sing-along to with some lesser known ABBA brilliance such as 'Angel Eyes' and and 'I Wonder' as well as some perfectly choreographed routines that will have you bum dancing in your seat.
The entire movie will make people smile, cry, laugh, sing and dance on a real roller coaster of emotions and the perfect follow up to the first blockbusting hit film.
Does Your Mother Know . . .
About our superb cinema deals for Mamma Mia! Here We Go Again?
If not perhaps you should tell her or better yet surprise her with a fabulous night out just you two and the girls.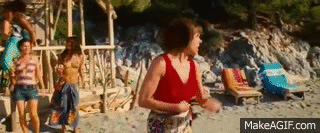 For just £34.95 per person, you can enjoy a delicious meal in 30 James Street's White Star Grand Hall followed by some ABBA-tastic entertainment and tickets to the movie itself.
There aren't any other cinema deals out there that give you this much for your Money, Money, Money so what are you waiting for Honey Honey?
Call our team now on 0151 305 5101 and enjoy an evening of singing, dancing, laughing and crying with all the lovely ladies in your life at our Mamma Mia! Here We Go Again event and movie night.
Make A Break Of It
Why not treat yourselves to a girly break in the city with Signature Living?
We've got some superb group rooms that can sleep 3-30 guests so no matter how many of you Dancing Queens there are there's plenty of room to spare.
Our awesome accommodation offers will bring you and the ladies together after a night of Mamma Mia madness, and perhaps a few spins on the dancefloors of Liverpool's best bars and nightclubs.
Book your tickets for the Mamma Mia! Here We Go Again cinema package here and call our team to book the perfect overnight stay on 0151 459 4101.