Getting together around the holidays can be difficult as were all pinching the pennies to buy the perfect Christmas presents. That's why we've made things easy with our Signature Living Liverpool Prices guide showing you exactly what you get book for your buck.
From the budget friendly deals of just £10 per person to splashing the cash on a £1000 pool party, here's an idea of how to stay and save in Liverpool with Signature Living.
Under £50 for Five Guests
Stay in the heart of the Cavern Quarter in the city's original party hotel for under £10 per person!
Any of the amazing themed party hotel rooms are only £49 all in mid-week giving everyone the chance to get together and have a ball in Liverpool.
Mathew Street is literally on the doorstep of Signature Hotel and our own Bar Signature is ideal to start and finish your night out in Liverpool with a bang.
Signature Hotel's amazingly unique rooms were built to host large groups looking for a great short break in the city, and wow do they deliver.
Spread over three floors guests can choose between the Burlesque, Sanctum of Sex and the City themed rooms each with their own glamourous décor and chic facilities.
Double whirlpools, wet room showers, large TV's and plenty of comfy beds mean you get a lot more for your money at Signature Living.
Cracking Couples Offer for £99
If it's just the two of you then the popular Stay and Dine deals from Signature Living are just £99 a couple.
That's less than £50 each for an overnight stay in a luxury Liverpool hotel room and delicious dining experiences in any Signature Living restaurants.
Book your deal in The Shankly Hotel and enjoy catching up on a little retail therapy or exploring the nearby cultural landmarks of the city like the World Museum and Walker Art Gallery.
Your meal will be served In the Bastion Bar and Restaurant where you can dine in a warm and welcoming atmosphere surrounded by rare Shankly memorabilia.
Or Stay and Dine at 30 James Street and make your way around the iconic Albert Docks, check out the sales in Liverpool ONE and take in the views of the Mersey and World Heritage Waterfront.
Dining in the stunning rooftop restaurant Carpathia, our guests will enjoy an exquisite meal in first-class surroundings complemented by endless views of Liverpool's striking waterfront.
Add a little fun to your short break in Liverpool by booking a Stay and Dine offer at Arthouse where the city's greatest movie-themed hotel rooms await and dine in the UK's first singing diner, Mulholland.
A real treat for two, all under £100.
The Bigger the Better: 16 Guests £10 per person
If you have a big crew and want to experience the best of the city without the hassle of logistics get everyone together in one of our Mathew Street party apartments for £10 per person.
Sleeping 16 guests, the Mathew Street party apartments have everything a large group staying in Liverpool could possibly need.
An excellent location gives you and your guests access to the best nightlife in Liverpool, with Mathew Street around the corner and Concert Square less than a two-minute walk away.
Better still you and the crew could simply host a house party right in your apartment as there's plenty of space in the kitchen diner for dancing, drinking, fun and games.
The choice is yours you could use a Mathew Street apartment as a luxury base in the city for 16 of your nearest and dearest or book the apartment to host your own apartment party in the centre of the city.
Any Mathew Street party apartment is £160 for mid-week stays, that's just £10 per person based on 16 guests staying. You'd be a fool not to book now.
Stay in Style in the Presidential Suites
No need to splash the cash to live the night like a VIP, at Signature Living we've have two of the city's most exceptional suites available to book for £250 all in.
That's just £250 for 6 guests to stay in our most exclusive accommodation for any night mid-week.
At 30 James Street, the Presidential Suite has a 15-foot bed and penthouse views of the iconic three graces from its panoramic windows.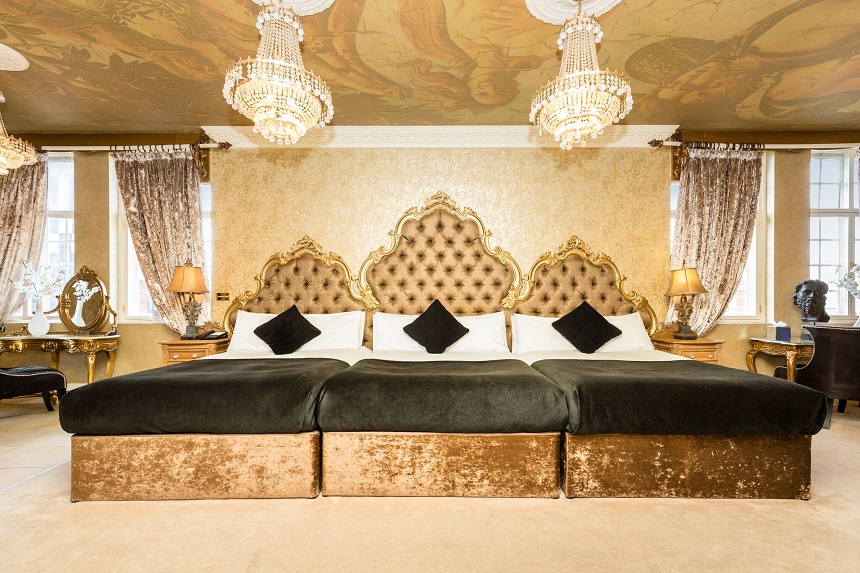 One of the building's turrets holds an amazing mosaic bath made from the buildings original water tank and the other has been transformed into a huge day bed complete with flat screen TV.
There's space to dine, a wet room shower and steam room as well as an utterly glamorous décor and easy access to the rooftop terrace and bar.
The Shankly's Presidential rooms are spacious and luxurious with a larger than life bed, comfy snugs and a stunning in room mosaic bath with room for everyone.
Book your group of 6 a stay in the lap of pure luxury in either of Signature Living fabulous Presidential Suites mid-week for just £250.00
Signature Suite Weekend Stays for Six: £500
Fancy a weekend break in Liverpool for less?
Look no further than our amazing party hotel suites available for £500 all in. The latest and greatest Signature Hotel rooms include the likes of the breath-taking Garden of Eden rooms, the shiny new Grey rooms or any of the fabulous party suites such as LMAO and OMG rooms.
These spaces bring an accommodation experience to Liverpool, unlike anything we or anyone else has ever done before.
Eye-catching décor is just the tip of it, as hidden rooms and secret messages play a huge part in making our guests stays memorable. In-room baths for multiple people and funky features mean your stay will be nothing short of fantastic and for a fraction of the usual price.
Just £500 will get you a one-night stay in the centre of the city, in Liverpool's newest and most exciting group accommodation.
Time to Splash the Cash: Morgan's Vault £1000
Book yourself the most enviable party night stay in the city at Morgan's Vault for just £1000.
You and up to 20 guests can stay the night in the nautically themed cabin style accommodation at 30 James Street and enjoy private access to, what will become, your own private nightclub for the evening.
This is a seriously special deal that is available on selected weekends only, including private access to a 40-foot pool in Morgan's Spa, a private bar and space to throw one amazing Liverpool pool party for just £1000.
Don't miss your opportunity to book one of these spectacular stays. Call on 0151 601 8801 or email info@signatureliving.co.uk to find out more about the all the Signature Living Liverpool prices and bag yourself the ultimate deal for a lot less than you expected.
All prices are available for a limited time, subject to availability and based on full occupancy.